AI and Web Development (Part 2 of 2): 7 Leading Web Builders Powered by AI
Reading Time:
16
minutes
In Part 1 of this article on AI and web development, the impacts of AI on web development is mentioned. One of these significant impacts is AI-powered web builders that elevates website design processes dramatically. 
Through also known as Artificial Design Intelligence ADI systems, the usually complicated, time-consuming, prone to human error process of User Interface (UI) design process is streamlined. 
It has changed the way web developers create and maintain websites and applications, both for desktop and mobile. 
Here are 7 of the best and leading web builders powered by AI shaking the web development industry today. 
7 Web Builders Powered by Artificial Intelligence
Wix ADI designs customize websites to precisely what the client needs. It learns the targets and needs of the business and the people using the site. With a few simple questions, Wix ADI can build a website aptly suited for and representing its client. 
There is a plethora of themes and designs of high-quality and stunning combinations or possibilities. Through this AI-powered web builder, the optimal design is matched with perfect content to create a unique, dynamic, and robust website in minutes. Wix prides itself on that no two sites ever end up looking the same. Beyond amazing designs, Wix ADI gathers relevant content across the web and social media that users can use as-is or customize.
With the Wix ADI system, beautiful websites are easy to achieve in no time, without coding involved. So whether the web developer has expertise or not, they can create a full-featured website. 
Almost everything on the ADI system can be customized, from colors to font sizes and more. Users can also add animations to a specific page or the whole website in just a few clicks. 
Indeed, it is one of the best AI-based website builder. No wonder it is a trusted authority tool that both professionals and beginners use. It offers maximum convenience and usability at high speeds. That is crucial in website development. Wix ADI is straightforward, simple, and intuitive to use for all designers and web developers of varying expertise.
Here are some more of Wix ADI's remarkable features:
• Simple Website Development: it is possible to create and launch a website with Wix ADI in half an hour to less than an hour. It uses simple, extremely user-friendly guidelines to complete different tasks of web development. 
• Detailed Guidelines: it has an informative step-by-step tutorial, based on the user's choices and answers submitted at the start of creating the project. 
• Automated Website Creation Process: has a set of questions wherein the answers will be the basis for developing your unique website. The questions include the type of website needed, the required features, business name, location, contact information including social networks, and the like. 
• Quick Project Customization: Even right after you publish a website or make it public, you can quickly modify its content or add details.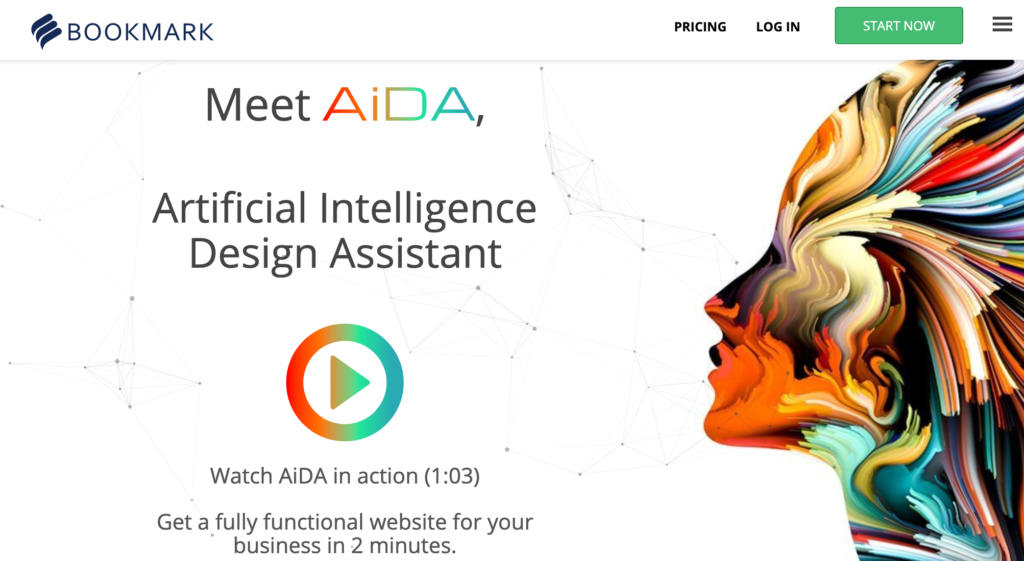 Bookmark offers an amazing AI-powered website builder it dubbed as AIDA (Artificial Intelligence Design Assistant). It is also perfect for web developers that have little to no expertise in coding. The system is mainly designed to develop company websites, eCommerce stores, business portfolios, and responsive design pages.
Through AIDA, web developers can create custom websites and have them up and running within a couple of minutes. Through AI, the software makes a unique design catered to the needs of the business and its audience.
Users need to indicate their type of business, and the options are specific, numbering to about 650 choices. But once you have stated your niche or business type, AIDA can now create personal portfolios, business websites, eCommerce stores to begin with. 
After you tell the business type and the name, the AI behind the software takes care of the rest of the details and processes that happen to build your site in no time.
Developers now need to edit the images and content generated by AIDA. You can create a different version should you want another option, or if you are doing A/B testing on your website. 
Aida also has a drag-and-drop technology with state-of-the-art, AI-based web design of high-end, feature-rich projects. Even newbies can do web design like a pro with the help of AIDA. 
Some of this AI-powered web builder include: 
• Quick and User-Friendly Design: Users start with "AIDA, SHOW ME HOW" and begin answering a couple of questions, pick a niche among its 750 options, layout preference, and design style. After you input your business name, AIDA uses all the data you provided to come up with a unique design in about 30 seconds.
• Automated Web Development: AIDA automatically creates your website with blocks or "focuses." It also chooses the aptest color palette and design customization elements. After this stage, the user is redirected to the editor, where the AI then adds impressive animations in real-time mode and completed the functional blocks to the pages of the website. 
• Hints and Guidelines: The AIDA system gives hints on how web developers can effectively modify web pages and sections, replace content, modify positions of modules on website pages, set SEO parameters, and complete other tasks needed for the outcome. 
• Unique Template Variability: With AiDAyou do not just get a ready-made template but an individual template variability giving you access to versatile responsive integrated themes. 
• HTML Code Embedding: This AI-powered web builder comes with  HTML code embedding, which allows web developers to make and publish unique, customizable projects. 
Bookmark comes with no cost but comes in a bookmark.com subdomain. Web developers can also upgrade to either of its two paid plans that can be billed annually or monthly.  
Adobe XD is a mighty tool for UI/UX web design. Web designers and developers can create wireframes, user flows, high-fidelity designs, animations, interactive prototypes, to name a few, all without the need to switch between multiple apps. It is a fast, easy-to-use, and powerful web builder, designed for designers and developers of any experience or expertise. Some of Adobe XD's impressive and topnotch features include Responsive Resize, Repeat Grid, and Auto-Animate. 
This AI-powered tool is a fast and free tool for collaborative UX and UI design needed for web building. Here are some of the many other features of the Adobe XD:
• Design unique experiences: Web builders can create basic wireframes and progress to beautiful designs fast. Select customized user interfaces using colors, vector drawing tools, character styles, grids, guides, to name a few. 
Build design elements for reuse in an XD document or many documents. You can also directly edit in Photoshop from XD and create content-aware layouts that recognize the relationships between different elements of your build and makes adjustments automatically as designs are modified.
• Build prototypes that bring experiences to life: Transform conventional and static templates to rich experience for users, such as interfaces, motion, and movement. Web builders can interconnect artboards, enable triggers for touch gestures, and preview experiences on mobile devices downloaded with the XD mobile app. So, every time web builders modify something on the desktop, they can test its mobile-responsiveness and appeal right away on mobile devices. 
Aside from this, web builders and designers can export designs and to Adobe After Effects for more animation inputs. 
• Intended to improve team collaboration: Keep everybody in step and work well alongside fellow designers. Have stakeholders review and critique projects. And exchange design specifications that offer developers all they need to start coding.
Some of its new or beta features are coediting on the same document simultaneously and adding design tokens. It also has stacks now that set the spacing between objects consistently throughout the build, and scroll groups that define areas in your scrollable designs like image carousels, chat windows, and activity feeds. 
Firedrop has Sacha AI software, which is used to build web pages as compared to entire websites. Web builders can use this AI-powered platform to create whole sites without having to do it a page at a time. Instead of using drag-and-drop builders, web builders talk to Sacha through live chat. It is a perfect AI-powered web builder for those who like simple and customized landing pages. 
Firedrop guarantees automatic site creation and editing. Web builders only need to identify their niche, and the Sacha virtual assistant can lead to the most suitable combinations. Web builders can connect pieces manually and put content with a user-friendly editor. 
Leia, the Artificial Intelligence Website Builder
Leia is an AI-powered web builder system that enables the launching and managing of clean custom-made projects from scratch and completed within a minute or so. Beautiful and responsive websites for all businesses is now possible with the likes of the Leia system. 
The web builders provide the details about the project so the AI can choose design and performance tasks that will match the description of the business and its needs. Leia automatically creates the website based on those user inputs. This AI design tool can design independently, code, and publish the project live. The other features of Leia include:
• One-of-a-kind web design: Leia ensures an intuitive web design process and enables users to create personalized web designs as well so that projects launched are unique every time. 
• Voice commands or prompts: Leia begins to work on the web building process with the user's voice command. Users specify the type of website that needs to be built. This AI system then selects the best template and style based on those choices. The system allows entering business details manually if you can't use the voice command option. 
• Intuitive web building/designing: Before the start of any build, the system generates some questions to get as many details about the business as possible. Providing detailed answers help the AI-powered design system determine how your web design should be. Even without experience, you can build websites expertly. 
Weblium is an intuitive AI-powered web builder that enables you to build websites fast, whether with coding or design skills. Create high-quality, visually appealing, and mobile-friendly sites like a pro and in no time. 
It allows web builders to go online fast to start running their online business and engaging with future clients. With Weblium, quickly promote your business, create your portfolio, start a project, blog, and more. Weblium has more than 250 ready-to-use templates that you can quickly modify to ass sections and content. Other features include: 
• Smart design supervisor: Our built-in smart design supervisor seamlessly updates the visual interface when you change templates and blocks. 
• Mobile-friendly and unique: Our built-in smart design supervisor seamlessly updates the visual interface when you change templates and blocks. 
• Technical complexity is eliminated: No need to worry about hosting, domain, SSL security certificate, software updates, and other technical aspects so you can concentrate on web building than its maintenance.
• Open to search engines: The website can get more engagements, leads, and potential customers with advanced search engine optimization settings. 
It also has an image library, styles manager, built-in integrations, and various marketing tools to track website performance quickly. These tools also help users boost their integration with external or third-party services with free analytic tools. This AI design tool also has custom forms, shared editing, and 24/7 customer support. It has a free basic plan and paid plans—Pro (personal use) and Landing Pro (lifetime, good for 3 pages).
B12 is an AI-powered web builder and designer perfect for small businesses. This AI tool will also design a free draft of the website for your business, so you can get a foretaste of how B12 is revolutionizing web design.
B12 uses human-assisted AI to create elegant and useful websites in at par with agency-quality without the agency price tag. It all starts with a free draft where users tell B12 a few information regarding your business so the AI can build a mockup in minutes. 
When you choose to go with the draft, the AI them further customizes web building to meet the set business goals. The websites that get published by B12 are optimized for desktop use and mobile viewing experiences. New websites can be launched in just two weeks, which is a quarter of the turnaround time for traditional web design agencies.
After they build your website, B12 also hosts it, with unlimited bandwidth and storage provision, plus a custom domain name. B12's AI also gives monthly analytics reports and makes suggestions for changes to optimize web performance.
Conclusion: AI-powered Web Builder is the Norm of the Future
Currently, website builder apps' artificial intelligence is in its early development. In a year or so, full-featured AI solutions from leading tech companies will be available. These systems can search for data, interpret it, anticipate and continue to engage in the website creation phase even after its release.
Other innovative technologies will arrive in the immediate future, such as cloud-based storage and servers, dynamic networks with smart management systems and self-teaching/self-organizing capabilities, and innovative, intelligent marketing. 
One thing is for sure, AI-powered web building is a phenomenon that will become the future standard of web development. If you need any assistance with AI powered web development, you can contact us for more information.
Mayleen Meñez used to work in media before finding her true passion in NGO work, travelling the Philippines and Asia doing so. She homeschools 3 kids and loves reinventing Filipino dishes. She is a resident SEO writer for Softvire Australia and Softvire New Zealand.